19 / Jun / 2019
Why the curve shape is in Preben Lind's DNA.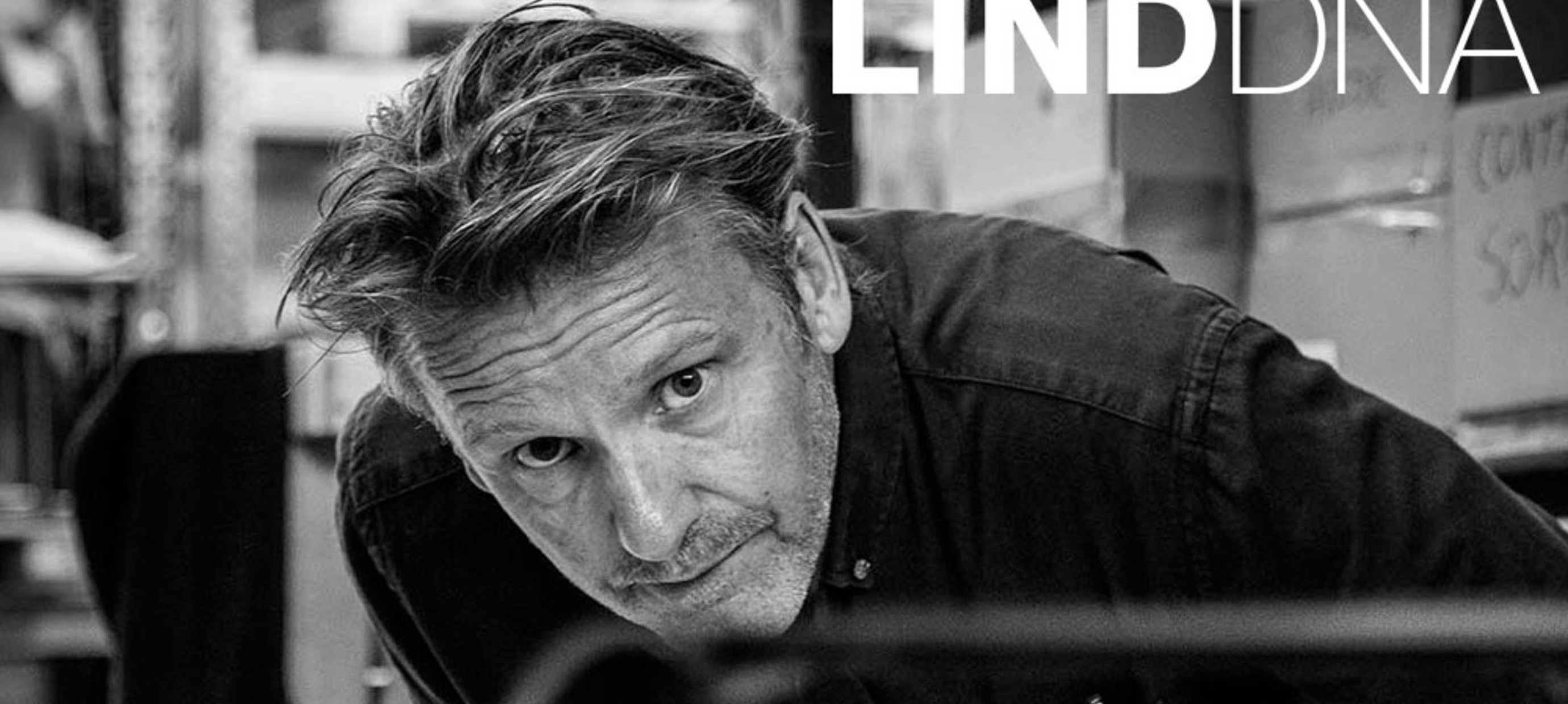 About Preben Lind and LIND DNA
The story about LIND DNA is the story of an entrepreneur who randomly noticed that the book in the hotel room was bound in a different material – Recycled leather. Curiosity brought Preben Lind to one of the few manufacturers worldwide who offer that specific material. With an exclusive partnership agreement 6 years ago, the scene was set to what would turn out to be an extremely successful Danish design company – LIND DNA. Today the company sells to 50 countries worldwide and the most iconic product is the curve shaped table mat. The same curve shape that´s in the logo of LIND DNA.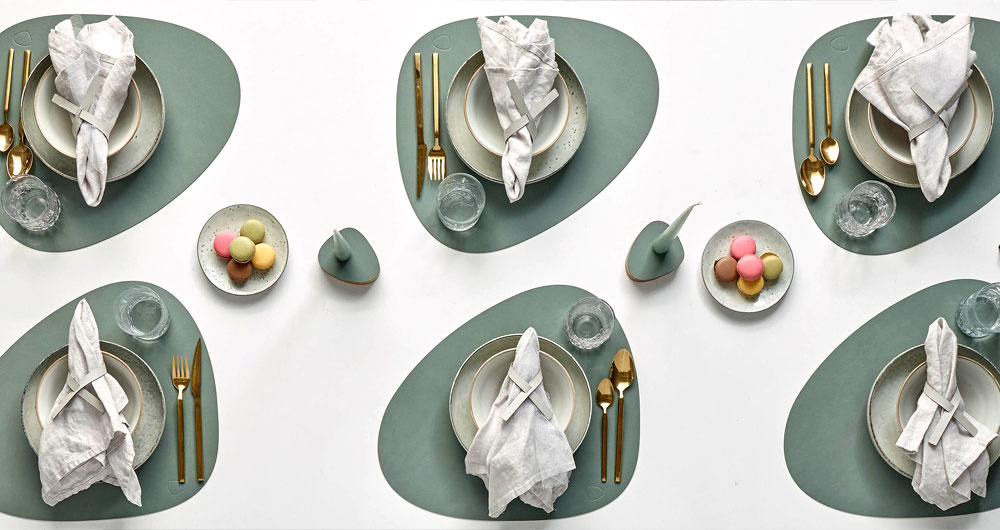 What inspired you to create the Curve shape?
In fact, I drew the shape by hand as a sketch for the company´s logo. I wanted a unique shape. By coincidence I realized that the shape was suitable and even optimal for a table mat, and then I started producing table mats. As a natural development we created the shape in a product range in stoneware. Due to its distinctive shape, Curve Stoneware lets you reinvent completely, how to arrange and serve food on a plate, a platter or in a bowl. At the same time, the collection lets you play even more with the perfect symmetry of your tabletop ensemble, by adding yet another dimension of curves to your table.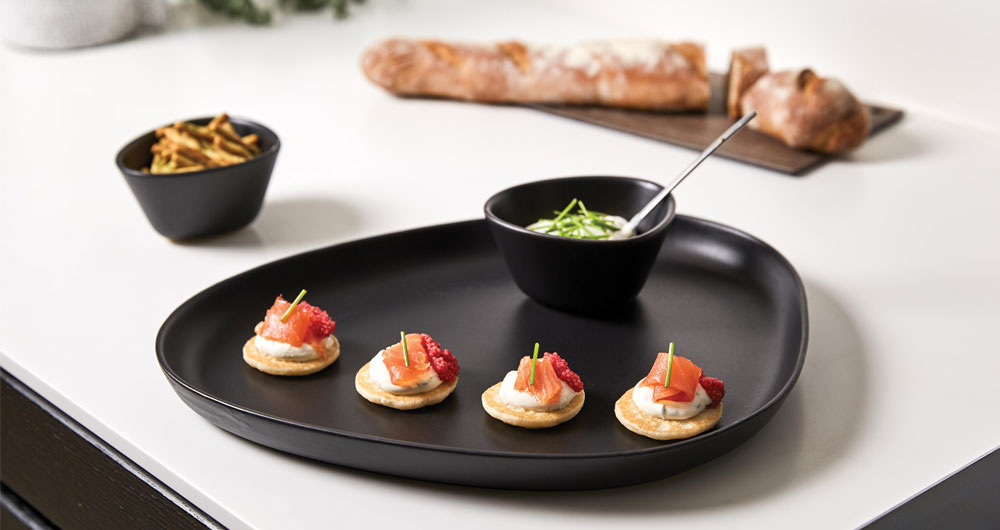 What made you choose the black colour for the table ware?
We have chosen to produce Curve Stoneware in Black and in Navy Blue, which plays very well with the unique, mat surface of the stoneware. As a matter of fact we now launch the stoneware collection in off white. The entire collection consists of three different plates, a platter plate and two bowls in black, navy blue and off white. A colour for any taste.
Which kitchen items are Lind DNA's best sellers?
Our number one bestseller is the curve shaped table mat in recycled leather. But when it comes to accessories, we see that our curve shaped salt & pepper set, consisting of two small containers – made from european oak, with a decorative lid on top sells very well. All three pieces are coated with recycled leather. They can be taken apart and put back together as you wish – connected by invisible magnets.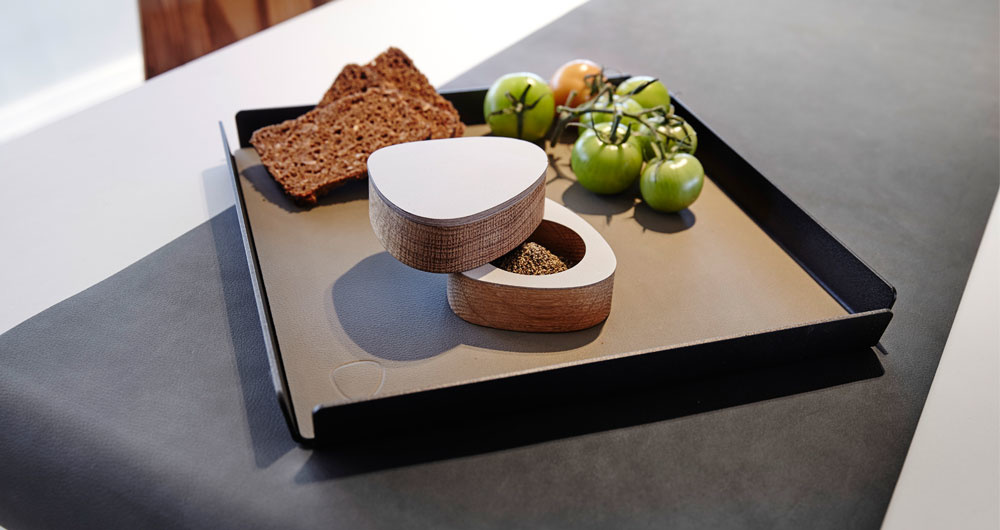 Among other popular accessories we have a collection of cutting boards made from 40 layers of kraft paper, pressed together with resin from trees. This compact laminate is a very strong and durable material, heatresistnt up to 200o Celcius and dishwasher safe. The collection has a wooden appearance and is available in a lighter and a darker colour (ash and walnut). To to their appealing design, the boards are very versatile and can also be used as decorative serving boards for tapas or snacks.
Are you foody yourself?
I like cooking, when I have the time for it. I love a beautifully set table and I appreciate and enjoy the effort other foodies have put into a meal. Obviously my biggest contribution to stems from my passion for design, craftmanship and the art of creation. I´ve become the "development apartment" in our setup, and whenever one of us has an idea, I can pop into the workshop and quickly put together a prototype we can discuss, try out and show to potential customers. 
What Nordic dish would you serve on the black table ware? 
I think a typical nordic dish served on our black stoneware would be smoked white halibut fish with slices of green cucumbers and fennel, beautifully served with the classic danish rye bread and a dressing made of red onion, fromage frais, dill and dijon mustard. It´s one of my personal favorites and the black plate highlights the colours of the food.