Nordic Living.nl, Annelies - 22 / Nov / 2018
Take care of your home and your skin with Klinta scented candles!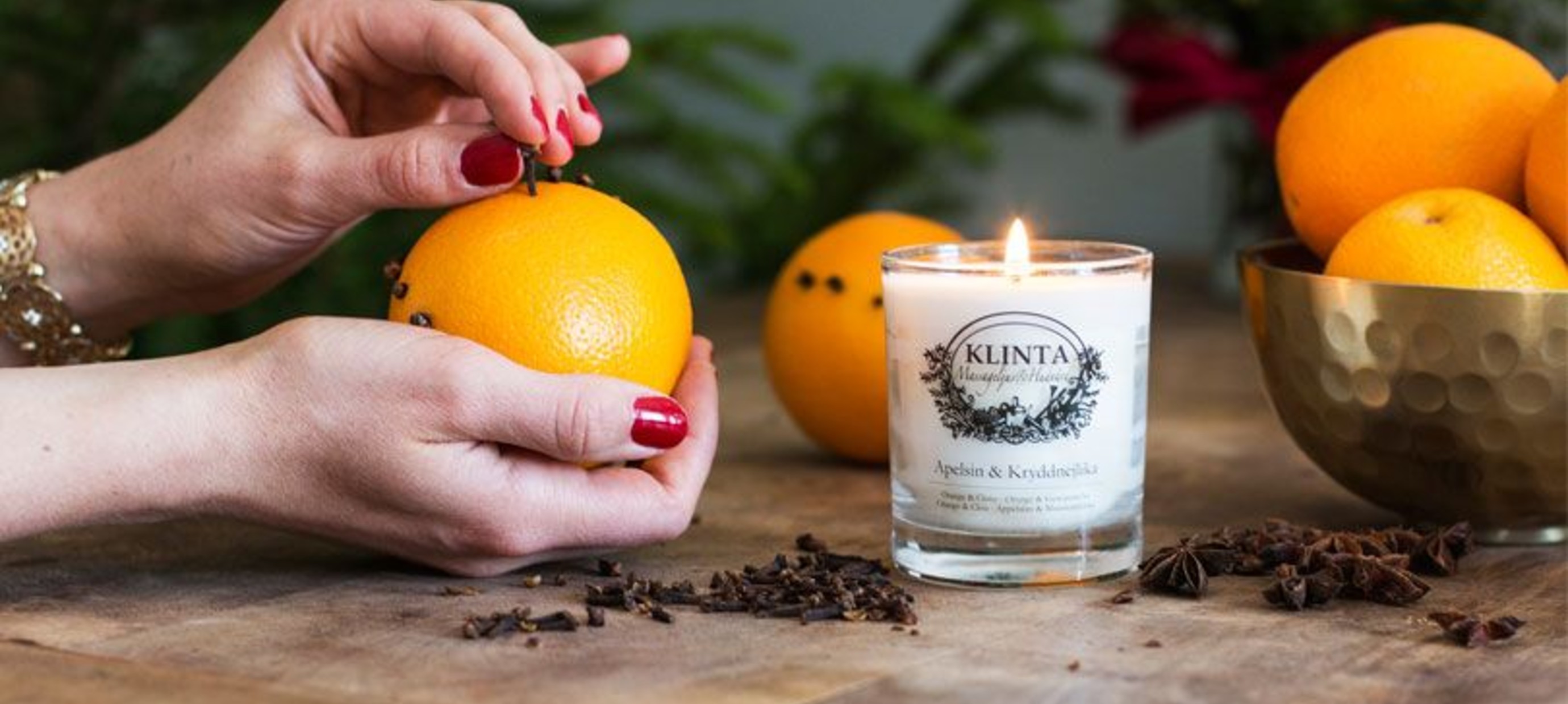 Do you also get headaches from chemical smells (air 'refreshers'!!!), itching from nickel and other nasty substances? Then please this blog and the tips I have for you. Good for you ánd your interior!
In the spring I received a scented candle from the Swedish brand Klinta, with a request to test it. It loved the scent garden mint (trädgårdsmyntha). But what I especially liked was that I could also use the candle oil on my skin.
Just light the candle, wait a while and then you can dip the oil out of the glass with your finger or pour it into your hand. The result is a lovely smelling skin cream, which absorbs quickly and works very well.
As you might have expected I have a sensitive skin, with an eczema-like rash of nickel (metal buttons for example are disastrous). I don't want to use hormone ointment for that and I'm certainly not a disciplined 'lubricant', but of course I do want to get rid of this itching.
The Klinta scented candle test turned out to work very well and the irritated spots on my skin disappeared. Meanwhile I even use the scented candle as a facial cream!
Organic scented candles from Klinta
I decided to visit Klinta at a fair in Denmark and had a long talk with Lisa Thrane Stevens (she owes her last name to her English husband; long story ..). I was curious about her story, the ingredients and the possibilities of Klinta.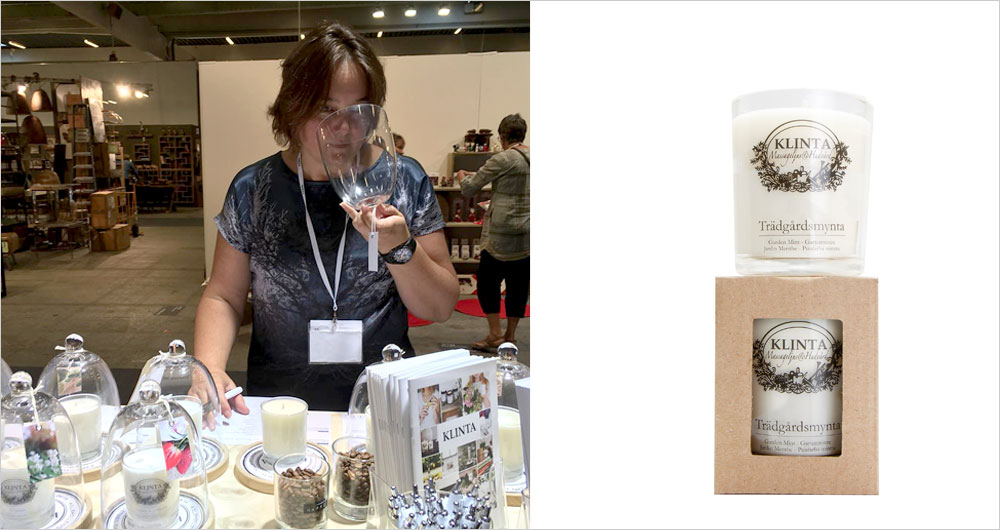 On the picture you can see me sniffing the scents to make a choice from about 40 different scents. Smelling coffee beans now and then turns out to neutralize your smell. And also here I noticed that it was no problem to smell all those fragrances, while entering a perfume shop is a 'no go' for me.
This is undoubtedly because the scented candles of Klinta contain no additives, only natural ingredients. The candles consist for 96% of oil and are completely organic. No parabens, paraffin, or other additives. And the scented candles are not tested on animals ♥.
Use scented candles from Klinta as a massage candle.
Because that is also possible! Please have a look at the short video below. The oil stays lukewarm and is almost immediately ready for use. Enjoy a mild fragrance while your skin and muscles are cared for with the oil from the scented candle.
Want to know more about Klinta? Then also watch the video 'Klinta's philosophy', or contact me, because I am now an enthusiastic fan. Because it works, because it smells so good and because I finally found a good Scandinavian product for customers with a sensitive nose/skin ♥.